Wine and cheese parties are fun ways to celebrate just about any occasion from birthdays to bridal showers, but they also work wonderfully as an event all their own. The enjoyment of tasting different wines with different cheeses is something every one of your adult guests can participate in.
So plan the time, date and menu, then get your invitations and menu cards ordered. The sooner you let your guests know, the less conflicts in scheduling they will have.
Pairing Wine and Cheese
As the host or hostess, one of the things that you will need to know is what kinds of wines to pair with what kinds of cheeses. As a rule, wine enhances the flavor of foods and most discover that foods will enhance the flavor of wine as well. To get the most out of this, you need to understand how this pairing works.
A rule of thumb to follow is that darker wines, like the reds, go best with darker or heavier foods like darker cheeses. The lighter wines, like the whites, will go best with lighter foods like white cheeses. Kind of a simple rule, huh? Of course, there are exceptions to every rule. Find out lots more about pairing wine and cheese so that you are ready for your party.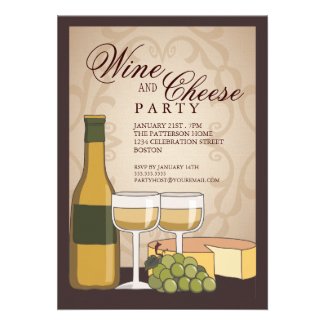 Tuscan Wine & Cheese Tasting Party Invitation
by
kat_parrella
Available from Zazzle
Click for Details
Wine and Cheese Party Invitations
Making use of your invitations is best. Let your guests know from the beginning what to expect of the party. Wine and cheese parties are not typically meals, so you need to set your timing appropriately. Invitations will assure that your guests know more than just when and where, but also what to expect.
Menu for A Wine and Cheese Party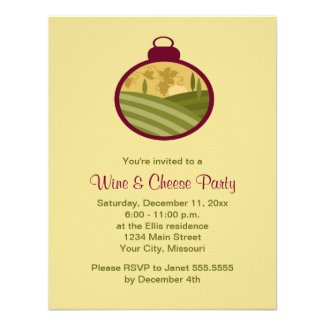 Holiday Wine and Cheese Party Invitations
by
unique_wine_gifts
Available from Zazzle
Click for Details
Yes, cheeses of many different varieties are definitely required for a wine and cheese party, but add more for your guests. Breads, crackers, even sweets are good additions to your menu. Your favorite appetizers work great for those guests who either don't like cheese or need to limit the amount of cheese they consume.
Since you are also serving alcoholic beverages, make sure you offer plenty of coffee and tea. Also, you want to have water available for guests to cleanse their tastebuds before another round of tasting.
Share a Nice Variety of Wine & Cheese
When hosting a wine and cheese party, make sure you have a nice variety of both wines and cheeses. Whether you choose the wine varieties first or the cheeses first, pick the other that will make good complementary tasting. This is a great opportunity for both you and your guests to taste new flavors and possibly come up with new favorites.
A standard bottle of wine will serve 6-8 glasses of wine, so make sure you have enough wine and cheese for each of your guests to be able to taste all that you have available. So if you are expecting 16 people at your party, make sure to have at least 2 bottles of each wine variety and brand.
The more you know about wine tasting, and pairing wine and cheese, the better time you and your guests will have.
Wine and Cheese Invitation Card
by
Tasty_House_Gifts
Available from Zazzle
Click for Details